Can you guess which one is the must have? That's right, the pencil skirt! Pencil skirts are all the rage as their slim style is a total classic for anyone's wardrobe. But why not the denim skirt? Most of the time, the denim skirt is very short and quite frankly very slutty. However, sometimes it can be done well.
Here, the denim skirt is upgraded with a high waste and more flowy bottom. While much better than the original piece, the upgraed denim skirt is just too difficult to pull off a great look with. Pencil skirts, however, are much more practical.
That said, pencil skirts can get fairly pricey. Check out these two options.
As you can see, the top designers have really placed a lot of emphasis on their pencil skirts. Aren't they fabulous? Well, your wallet may not feel the same way. The first design (the hot pink one) is a trend setting skirt from Dior, and it will cost you a mere $890. Think that's outrageous? The second piece is a shiny leather pencil skirt done by Versace which will set you back $1,565. Now that the price tags have shocked you, do not fret. Hip pencil skirts do not have to cost you an arm and a leg. For less than 5% of the Versace number, you can achieve the same exact look, and have money to spend on fabulizing it.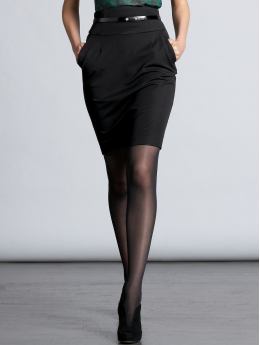 ($60 from Banana Republic. Also available in white and grey)
Banana Republic still remains my number one choice for chic for less. BR has a wide variety of must have pieces for building your wardrobe. In short, it's a must. While a little more expensive than a cheaper version of the pencil skirt (such as ones from Express or the Limited), Banana Republic by far is the highest quality.